After samaung galaxy s4 now its time to launch another big screen smartphone to tackle the competitors and increase some fame. Yes i am talking about the new Galaxy note ( semi-tablet ). It is the 3rd in its family and sources have told us that it is much better as a whole from other family members
1; Another Big Screen
Smaung galaxy note 3 has a big 5.7 inches, HD AMOLED display, with resolution of 1920x1080.

Pixel density is approx 386ppi

Display is incredibly clear and vibrant with great contrast like other members of family
2; Size and Build overview
Dimentions of Note 3 are like; 151.2x79.2x8.3mm , It means more slimmer and thinner than precessosor Note 2

Note 3 weighs 168 grams, and it is 12 grams lesser than Note 2
Back of this Note is soft and smooth, giving a leathery look while the whole thing feels solid.We have noticed that S-pen sensors are slightly weaker than that of predessosor Note 2. It means that you will have to press slightly harder to register screen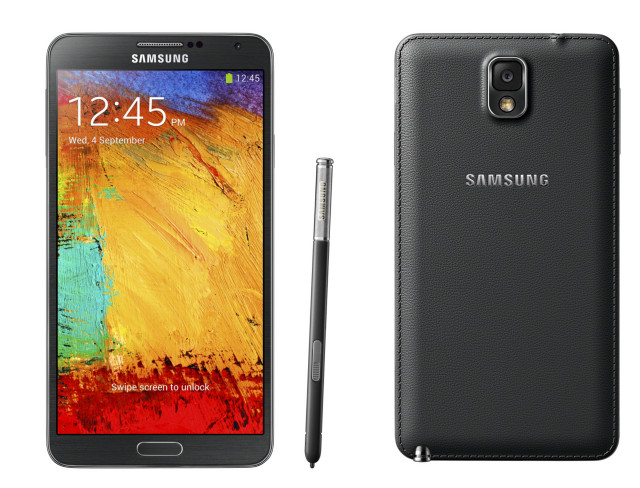 3; Lets look at Giant's camera
Galaxy note 3 came with back 13 MP and front 2 MP camera

Some sources have sad that this smartphone will be able to shoot Ultra-HD 4K video at 30fps, FHD at 60fps and even Slow Motion at 120fps, But still we are not clear with this feature

Dual camera, Dual recording and dual video call feature is also loader
4; Some other features of Galaxy note 3
Two types of note 3 smartphone are expected when we consider the processor. One with 1.9Ghz octa-core processor and other with 2.3GHz qualcom processor featuring quad-core.
Note 3 will be containing 3 GB RAM and 32 GB or 64 GB memory , sd-card slot can be upgraded to 64 GB
Note 3 takes advantage on all smartphone by its RAM 3GB, great figure especially in the samsung smartphone history.
There's NFC, Bluetooth 4.0 and an IR LED for remote control function, GPS together with WiFi 802.11 a/b/g/n/ac.
Some main additions
The main additions to the Note is brand new Air Command function. Hovering over the screen with your S-Pen and pressing button on the side of the Pen brings up a new menu, with a number of new features.
Photo credits to CBS interactive
Screenwipe and S-finder
Now note will capture a screenshot whenever you will wipe your hand over the screen, after capturing you will be shown editing tools and after editing you can share the picture or save it to the Gallery. S-finder is like phone search, using it you can easily find anything present in your Note smartphone.
Multi window is also a built-in feature in new Note, it is almost same as that of samsung galaxy s4, somehow some display changes has been made making the background of window blackish grey
Draw window through S-pen
It is reported that a new S-pen window feature is included in note 3. The concept is simple, you have to draw a small window where ever you want on screen and after drawing it will change into a real multiwindow and from a selected apps you can choose one, and the app will open in that particular drawn area
photo credits to engadget
Further you can also enlarge the app to full screen
Note 3 Battery
Battery is note 3 is also a mega feature with mega power. Battery of note 3 is upgraded from 3100 mA to 3200 mA, it means a great battery for a great smartphone
I hope you enjoyed it, after complete release of this giant I will update the review and complete the list of features
Peace!!